There are many ways to use plastic bottles on the internet. Now is spring and flower transplantation is relevant. These cute pots can be made from ordinary plastic bottles.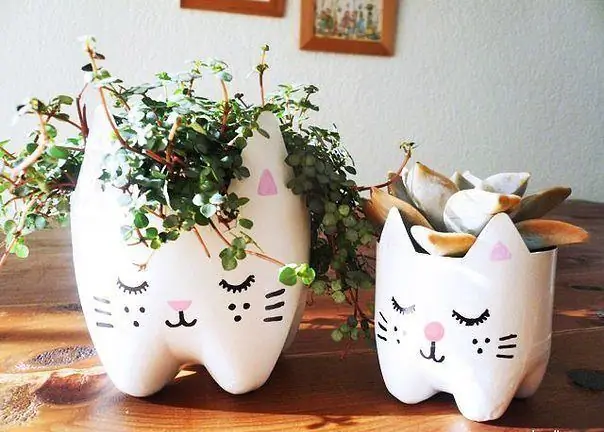 It is necessary
- plastic bottle;
- stationery knife;
- scissors;
- paint of three colors (preferably white, black, pink);
- thin and thick brushes
Instructions
Step 1
Preparing the bottle. Rinse if it is from sweet water or something sticky. Then we outline the outline of the future kitten. It is easier to start drawing from the center, then outline the triangles - the ears, and then connect them with a line along the entire wall of the bottle.
Step 2
With a clerical knife, we make an incision along the back line so that in case of any unevenness this place is not visible.
Step 3
Then, with scissors, cut out the rest of the pot.
Step 4
Use a thick brush to completely paint over the pot white. After complete drying, use a smaller brush to paint the ears with pink and the muzzle with black.
Step 5
If necessary, make holes in the bottom of the pot, but then don't forget about the saucer.
The kitten pot is ready! It remains only to plant a flower there and decorate the windowsill with it.