Currently, in many cities the number of TV channels broadcasting in the decimeter range exceeds the number of channels located in the meter wave range. A single TV equipped with an appropriate band selector is not enough to receive these channels. A dedicated antenna is also required.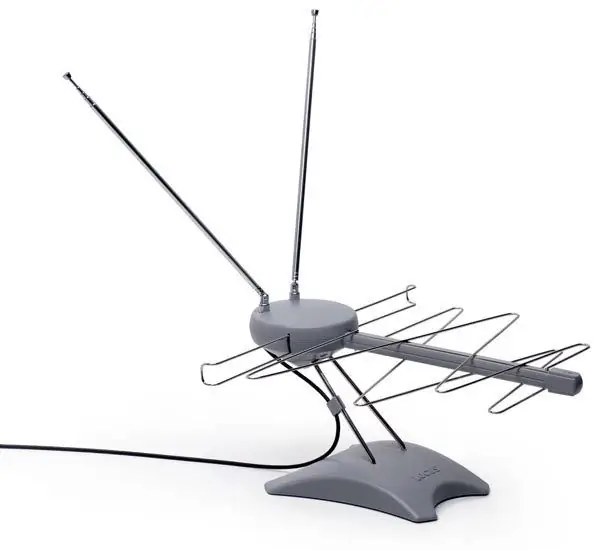 Instructions
Step 1
First, make sure you really need a decimeter antenna. To do this, connect the collective antenna cable to the TV (if there is one in your house) and perform auto-tuning. Make a list of the received channels. Then, instead of the collective antenna, connect a piece of wire and auto-tune again. If, at the same time, any channels were received that are not received by the collective antenna, you need a decimeter antenna. Be sure to unplug the TV before connecting or disconnecting the community antenna cable, as the cable sheath is grounded.
Step 2
Of all the designs of indoor decimeter antennas, the so-called ring antenna has the best combination of efficiency and ease of manufacture. To make it, take the antenna plug and connect the ring and pin contacts with a ring of wire with a diameter of about 10 centimeters. To do this, you need a piece of wire about 30 centimeters long (high accuracy is not required, so the number "pi" can be taken as exactly 3).
Step 3
Most modern TVs are equipped with a combined input for connecting an all-wave antenna. To connect two antennas to it at the same time: meter (or collective, if available) and decimeter, use a special adder. It is sold in hardware stores. Disconnect the TV from the mains before making the connection, if you are using a shared or grounded external antenna. Then tune the unit so that each antenna receives the channels that those antennas provide with better reception. Do not neglect the use of a combiner, as simply connecting the plugs to the TV one at a time will quickly deteriorate the input jack. In addition, it is inconvenient, because even if you have a remote control, you need to approach the TV. It is especially dangerous to connect the antennas one by one to the TV hanging on the wall: it may fall.