Sometimes it is very difficult to choose a grape variety for growing in a summer cottage, because there are many varieties of these berries. The grapes must meet a number of individual criteria, from disease resistance to palatability. For example, the Julian grape is a fertile and tasty variety.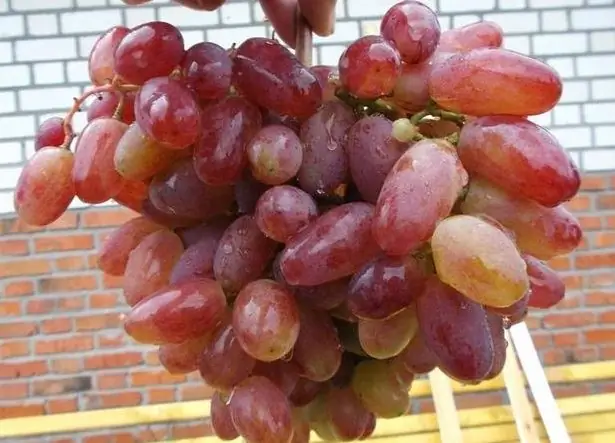 Features of Julian grapes
This variety belongs to the table varieties. It can often be seen in stores, because it has high transportability, retains its presentation for a long time.
The Julian grape has good growth vigor. It has bisexual flowers, good rooting of cuttings, a strong root system is formed in seedlings.
Julian grape appearance and taste
This grape has large bunches with a long stem and medium friability. The shape of the bunch resembles the Rizamat (parent) variety. The berries have a pale pink color, on average, their size is 42x28 mm, they have a nipple shape. Sugar accumulation in grapes is good, berries have dense crunchy flesh, taste is pleasant, harmonious.
Ripening and pruning
Julian grapes are very early ripening varieties. It takes 95-105 days from flowering for the berries to begin to ripen. Pruning is a mandatory procedure, but it is carried out in different ways. Usually Julian grapes are cut into eight eyes, forty eyes are left on the bush.
Frost resistance and disease resistance
Julian grapes calmly endure frosts down to -24 degrees. It is resistant to powdery mildew, gray rot, mildew, this variety is practically not damaged by impudent wasps.