Bamboo is a large plant with geniculate stems and sharp, spreading foliage. The color of bamboo in natural conditions is golden straw, but in painting its shades vary from juicy green to dark honey.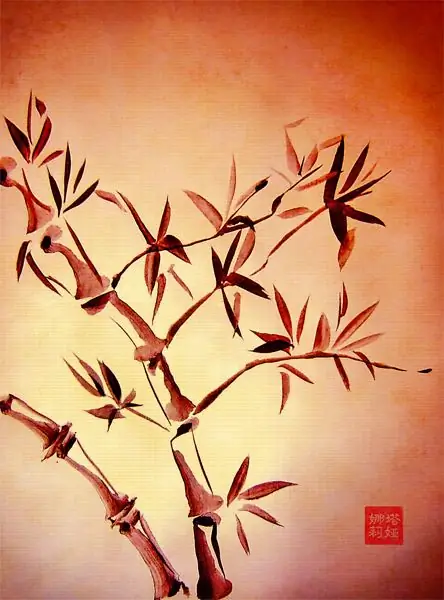 Instructions
Step 1
To draw bamboo, take a set with ocher, light brown and dark brown gouache. To make the bamboo as realistic as possible, find its image on the Internet or in the plant encyclopedia. Place the picture in front of you and start drawing.
Step 2
First, sketch out with a pencil. Draw a bamboo stem made up of several segments. The bottom segment is always the longest. Each next one is slightly shorter than the previous one. Remember that the circumference of the stem tapers towards the top. Leave a small gap between the segments. Then draw the branches and foliage. Graceful branches grow in different directions from the bamboo stem and are crowned with thin and sharp leaves. Do not focus on details, it is not so important at this stage.
Step 3
Lightly dampen the brush and dip it in ocher paint. Apply paint in large, wide strokes along one edge of the stem and along the edge of each branch. Fill in most of the sketch area with paint. Paint over each leaf without touching the thin stripes around the edges.
Step 4
Open the light brown paint and draw neat, not too thick strokes along the already drawn lines of the stem and twigs. This will give the drawing a more voluminous look. Brush over individual leaves of your choice.
Step 5
In dark brown paint, outline the contours of the stem. Apply some brush strokes over the light brown paint to give the plant even more realism. Make horizontal strokes from the edge of the stem. Passing from one edge to the other, they should gradually taper. Color in the remaining untouched area of the branches. Draw a few small dark brown leaves. And outline the outlines of the already drawn leaves with very thin lines.